(This information is not legal advice and is intended for informational purposes only.)
Discover Insider Secrets How People Get Ownership To Real Estate Property FREE And Clear!
Do You OWN Property, that is a single-family home??
"Maybe, you still paying on a mortgage loan??"
Or
"You might be facing a foreclosure situation right now??"
Or
"Maybe you filed bankruptcy to stop a foreclosure sale?"
If you can answer "YES" to one simple question this information is about to change your life….
If you can answer "YES!" to owning a single-family real estate property, then this information is going to reveal the shocking ways people gain ownership to property FREE and Clear without having to pay a dime.
"Thought that would get your attention!"
First off, you can be current on your mortgage loan and don't have to even be behind with your mortgage or facing foreclosure to Seek Relief to Free and Clear Title!
Attention: However, if you are behind in your mortgage, been denied a loan modification, or facing foreclosure…Learning this information will be of great benefit to you also!
What Is A Quiet Title??
Quiet Title is a lawsuit action brought in a court having jurisdiction over property disputes (generally state courts resolve title disputes and Federal courts have limited jurisdiction and can only resolve matters that ask a federal question). Quiet Title establishes a party's title to real property or personal property against anyone and everyone, and thus "quiet" any challenges or claims to the Title.
Please Don't OVER Pay For A Quiet Title!!
Typically, a Quiet Title Action can range anywhere from $5,000 and up! Plus MUCH MORE with adding expensive attorney fees, mortgage forensic expert witness testimony, research costs, forensic investigations, etc!
Why Do People File Quiet Title Actions??
A quiet title action is a very common lawsuit and known as the "friendly lawsuit" to resolve conflicts to determine who actually owns the property.
"In a foreclosure dispute or adversary proceeding in bankruptcy where a foreclosure Stay was granted, the purpose of Quiet Title Action is to resolve who is the proper owner of a property."
It's very simple, every individual needs to make sure that they have clear title to their property.
Issues that can cause clouds on the title:
"Having even just one Error or if it was a clerical error, means that the title is not clear."
Not knowing property boundaries is also another reason that many individuals don't have clear title and never actually realize this until land survey issues or having disputes with their neighbors over property borders.
An easement on your property could also cause property owners to be questioned regarding the title.
If there was a previous old mortgage on the property or Assignment transfers, especially if the property was a foreclosure. All of which could cause the title to not be clear.
Often homeowners find this out when trying to refinance and title search reveals records of unrecorded payoffs and flawed Assignment transfers.
"Upon purchasing foreclosure properties, it's ideal to Quiet Title to make sure no existing clouds on title exists."
What Makes Quiet Title Actions Different?
A Quiet Title Action is considered to be a "preventative lawsuit" and there doesn't have to be any other active dispute. The purpose is for the individual to seek the authority of the court to determine who is the clear owner over the property and to free and clear the title from anyone else claiming rights to ownership in the title.
Each state has certain guidelines and procedures for how to file a Quiet Title Action.
Quiet Title Fixer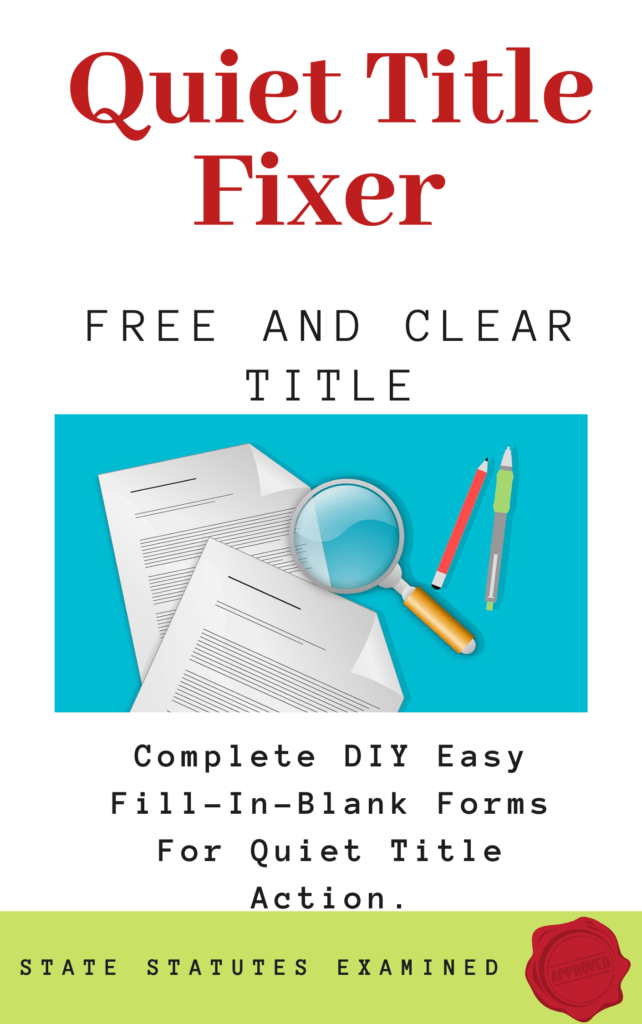 SOLD OUT
An easy step-by-step complete system of fill-in-blank forms to establish clear title ownership and to free and clear title against parties claiming ownership now or in the future and against parties claiming clear title rights to foreclose on the property.
Quiet Title Fixer was created to educate property owners, mortgage forensic auditors, estate attorneys, foreclosure defense attorneys, mortgage lender attorneys, and others on how to resolve the most common title dispute issues and clear title errors.
SOLD OUT
Quiet Title Fixer provides forms and knowledge to help with:
Discover how-to identify liens in the chain of title to Free and Clear Title permanently.
Demand request for title research to utilize federal regulations for identifying mortgage loan current ownership and complete mortgage payment history.
Foreclosure solutions to challenging clouds on the title for improper mortgage securitization title errors.
Complete DIY easy fill-in-blank forms for Quiet Title Action.
Extra Value Bonus: All instructional preparation forms are updated ongoing for current state statutes. *Only if you request a refund this service will be automatically canceled.
SOLD OUT